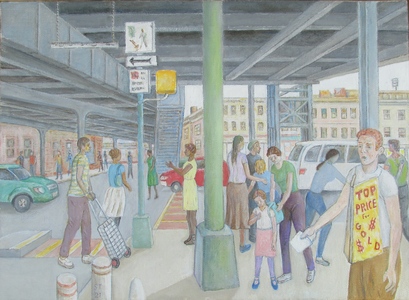 Top Price For Gold
2021
o/c
20" x 36"
NFS
This painting is from a drawing I did about 7 years earlier standing on the sidewalk at 231St, and Broadway in NYC. The man looking for sellers of their gold and jewelry was there.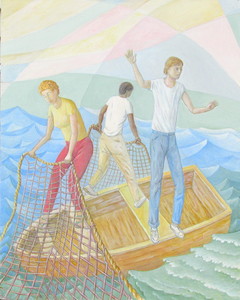 Adolescence
2020
o/c
30"x24"
NFS
I started this painting by trying to do an image that coordinated with a poem my friend Terry-Anya Hayes wrote but the image drifted so far from the poem I changed the title to what showed up.


HER POCKET FULL OF PINS
.
(sorry I have to use / marks to indicate the line endings)
.
A little respite never hurt anyone, /
she said as she retired from everything, /
I'll walk the dog, that's work enough for me, /
and brush my teeth, maybe, and I think /
Fish, I think I'd like to learn to fish. /
At the library, the only book she found /
on fishing was The Old Man and the Sea /
so she decided to wing it, went down to the shore /
on her pink and purple two wheeler singing /
You get a line and I'll get a pole honey, /
her pocket full of pins. And the wind blew /
like a melody suddenly remembered like /
her mother used to sing when her mother was young /
and the ocean pricked up its many ears /
and the gulls' cries broke on the rocks like clapping /
and the fish laughed and she laughed too /
and all the way home on her flower colored bike /
the wind fondled her hair as if invited /
and she decided retiring from every thing /
did not include whatever the wind wanted /
and she opened her yellow door and let him in.
***
Terry-Anya Hayes
1/1/15 Day 1 (5) Revised 5-20-18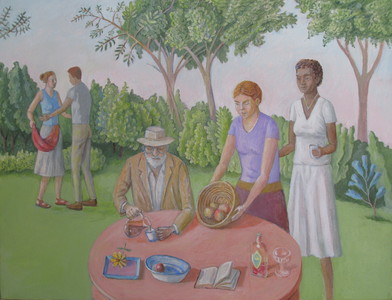 Garden Party II
2018
o/c
16" x 21"
NFS
Hit the > button for Garden Party I.

samuelthurston@gmail.com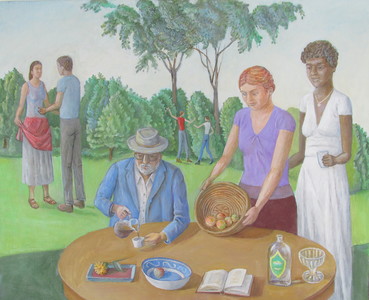 Garden Party I
2018
o/c
22"x26"
NFS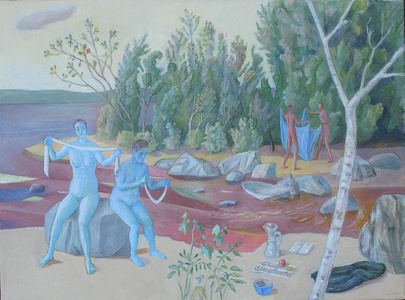 Four Figure Landscape
2010
o/c
15" x 20"
$2,500
Here is a poem by Terry-Anya Hayes responding to the painting.
Crossing
The trick is, stay busy
wash the laundry again
in the river of blood. Nothing
is what you've got now, nothing
in the pitcher or the small bowl —
Meanwhile on the other side,
see their sun shine, their sheets
remember beds, even their stones
sharper and more plentiful.  
Best not to look. 
Best to stretch and fold,/ mind on empty, blue with—
is it cold?
2018